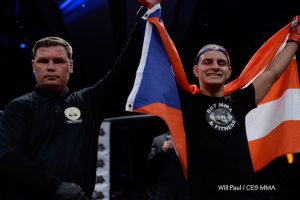 CES MMA 49 will take place on Friday, April 6 at the Twin River Casino in Lincoln, Rhode Island and the main card on AXS TV will feature Richie Santiago returning to the flyweight division for the first time since his amateur days when he takes on Matt Almy.
Santiago (6-0) is coming off a submission win in November at CES MMA 47 against Shawn Mack and all of his victories have come by submission. In his professional career, he has never made it to the third round and this will be his first fight at 125 pounds since defeating Nate Russell at Cage Titans 28 in his final amateur fight in 2016.
I recently had a chance to speak with Santiago about his upcoming matchup. I talked with him about the decision to return to the flyweight division, his view of Almy as a opponent, and training at various gyms in the northeast.