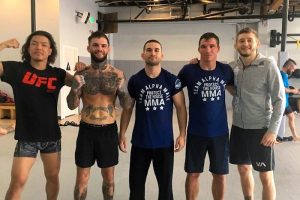 The CamSoda Legends event will take place next week in Ft. Lauderdale, Florida and the fight card will feature Matt Wagy taking on Anthony Retic in a featherweight bout.
Wagy (10-5) enters this fight following a decision defeat against Kester Mark at the Bellator MMA/Monster Energy Fight Series in Miami last year and the defeat snapped a seven fight winning streak. During that winning streak, five of the seven wins came by TKO/KO and all of those stoppage wins came in the opening round.
I recently had a chance to speak with Wagy about this matchup against Retic at the CamSoda Legends event in South Florida. Along with talking about the matchup, Wagy talked about moving back to Florida after living in California and how UFC featherweight Charles Rosa is helping him out with his weight cut.