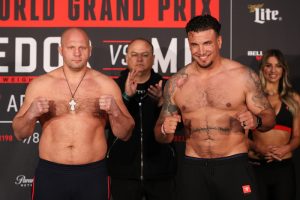 Bellator 198 took place six days ago in Rosemont, Illinois and was headlined by Fedor Emelianenko advancing to the semifinals of the Bellator Heavyweight Grand Prix Tournament with a 48-second TKO victory against Frank Mir.
Earlier this week, the preliminary television ratings (L+SD) came out and the fight card drew a combined 750k viewers on the Paramount Network (581k) and CMT (169k).
When those ratings came out, I was not surprised by the response by the mixed martial arts community, but it was revealed on Thursday by Bellator and Paramount Network that the fight card viewership went up 10 percent in the +3 DVR viewership with an average viewership of 830k.
Along with announcing the average viewership, it was revealed that the main event fight between Fedor and Mir drew 1.5 million viewers and the peak minute viewership for the fight was at 11:26 p.m. And just to note, the 1.5 million viewership number is the combined viewership on the Paramount Network and CMT in the +3 DVR ratings.
In addition to those figures, I asked a Paramount Network executive on Thursday about streaming viewership for the fight card since this is a key figure in today's television landscape. I was informed that "Bellator 198: Fedor vs. Mir delivered the 3rd most video streams on the network's digital platforms in franchise history – only trailing Bellator 149: Shamrock vs Gracie and Bellator 131: Tito vs. Bonnar."
Below is the +3 DVR viewership numbers for Bellator in 2018:
Bellator 192: 1 million (Combined viewership on Paramount Network and CMT)
Bellator 193: 534k
Bellator 194: 555k
Bellator 195: 531k
Bellator 196: 522k
Bellator 197: 502k (Combined viewership on Paramount Network and CMT)
Bellator 198: 830k (Combined viewership on Paramount Network and CMT)