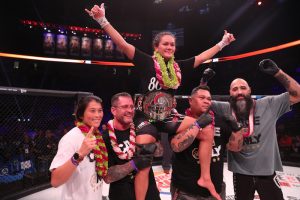 Bellator women's flyweight champion Ilima Macfarlane will make her first title defense at the end of the month when she is challenge by Alejandra Lara in the main event of Bellator 201.
Macfarlane (7-0) became the inaugural Bellator women's flyweight champion at Bellator 186 last year when she defeated Emily Ducote by submission in the fifth round. The submission victory over Ducote marked her second win against her and four of her seven victories have come by submission.
During last week's podcast, Macfarlane was a guest on the show to preview her matchup against Lara and her complete conversation with Jason Floyd is below.