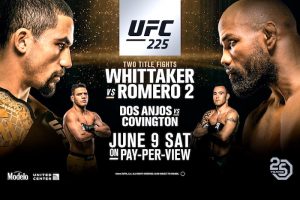 The best UFC pay-per-view fight card to this point in 2018 will take place tonight as UFC 225 will come from the United Center in Chicago and as I stated earlier this week on The MMA Report Podcast, I am excited to sit on the couch tonight and take in these fights. From the UFC Fight Pass prelims to the main card on pay-per-view, this is a tremendous fight card lineup the UFC has put together.
By now, you have likely heard about the slight change in this fight card as the main event is no longer a title fight due to Yoel Romero missing weight yesterday by .2 pound. This is now the second time that Romero has missed weight for a title fight with the other time coming back in February at UFC 221 when he was scheduled to take on Luke Rockhold for the interim middleweight title. And since I am a stat guy, it should be noted that fighters that have missed weight in the UFC in 2018 and have competed on the next night are 7-1 with the only lost coming at UFC Liverpool by Molly McCann.
Even with Romero missing weight, I am still excited to watch this fight. The first matchup between Whittaker and Romeo took place last year at UFC 213 and it was a good fight. Early in the fight, Whittaker suffered a knee injury. He would be able to overcome the injury and took the fight over in the championship rounds when it became clear that Romero's gas tank was not there. Just like the first fight, the key to victory for Whittaker is to stop the takedown attempts from Romero and the potential fight ending punching power that Romero has. For Romero, takedowns are the key to victory for him. Along with the takedowns, his gas tank has to be there for 25 minutes as I envision this matchup going the distance.
While the main event is no longer a title fight, the co-main event is a interim title fight in the welterweight division as Rafael dos Anjos will look to make history as he will take on Colby Covington. If Dos Anjos can get the victory tonight, he will become the 5th fighter in UFC history to win a UFC title in two different weight classes. And maybe it's just me, but I feel like this has not been heavily mentioned this week. On the other side, Covington has done a tremendous job of promoting himself to put himself into this situation, but let's not forget that he does have a win over former welterweight title challenger Demian Maia.
Now no one is going to argue that Dos Anjos is the better fighter, but Covington does have the wrestling advantage in this fight. This is the clear path to victory for Covington. If Covington is unable to get this fight to the ground and keep it there, I am just not sure how he can defeat Dos Anjos. If the fight plays out on the feet, I expect to see Dos Anjos pick apart Covington and at some point, get a TKO victory and set up a title unification bout against current UFC welterweight champion Tyron Woodley.
When it comes to the rest of the card, there are multiple fights that I am excited to see how they play out. Those fights include Alistair Overeem vs. Curtis Blaydes, Ricardo Lamas vs. Mirsad Bektic, and Joseph Benavidez vs. Sergio Pettis. I am also interested to see the UFC debut of former Invicta FC featherweight champion Megan Anderson as she will take on former UFC bantamweight champion Holly Holm and if Anderson can pull off the victory, it would seem likely that the UFC would book her against Cris Cyborg with Amanda Nunes currently on the sidelines due to a foot injury.
UFC 225 Pre-Fight Stats
– Robert Whittaker is tied with Nate Quarry for the 2nd best strikes landed per minute (4.96) in UFC middleweight division history (Martin Kampmann #1, 5.35) – Minimum 5 UFC fights
– Whittaker is tied with Nate Quarry for the 5th best strike differential (+2.16) in UFC middleweight division history (Thiago Santos #1, 2.57) – Minimum 5 UFC fights
– Whittaker has the 3rd best takedown defense (84.4%) in UFC middleweight division history (Krzysztof Jotko #1, 87%) – Minimum 5 UFC fights and 20 takedown attempts by opponents
– Yoel Romero has the 5th most knockdowns landed (7) in UFC middleweight division history (Anderson Silva #1, 13)
– Romero has the 8th best significant strike accuracy (52.9%) in UFC middleweight division history (Anderson Silva #1, 61.4%) – Minimum 5 UFC fights and 350 significant strike attempts
– Romero has the 7th best significant strike defense (64.3%) in UFC middleweight division history (Chael Sonnen #1, 67.7%) – Minimum 5 UFC fights and 350 strike attempts by opponents
– Colby Covington is tied with Neil Magny for the 5th most takedowns landed (41) in UFC welterweight division history (Georges St-Pierre #1, 87)
– Covington has the 8th best takedown accuracy (54%) in UFC welterweight division history (Robbie Lawler #1, 75%) – Minimum 5 UFC fights and 20 takedown attempts
– Holly Holm has the 3rd longest average fight time (18:12) in UFC history (Dominick Cruz #1, 21:00) – Minimum 5 UFC fights
– Andrei Arlovski has the 2nd most total fight time (3:18:13) in UFC heavyweight division history (Roy Nelson #1, 3:22:33)
– Arlovski is tied with Cain Velasquez for the 2nd most knockdowns landed (10) in UFC heavyweight division history (Junior dos Santos #1, 12)
– Curtis Blaydes is tied with Dave Herman for the 9th best strikes landed per minute (4.49) in UFC heavyweight division history – Minimum 5 UFC fights
– Blaydes has the 6th best strike differential (+1.86) in UFC heavyweight division history (Cain Velasquez #1, +4.14) – Minimum 5 UFC fights
– Blaydes has the 2nd most takedowns landed (29) in UFC heavyweight division history (Cain Velasquez #1, 34)
– Blaydes has the 3rd best takedown accuracy (54.7%) in UFC heavyweight division history (Cheick Kongo #1, 63.2%) – Minimum 5 UFC fights and 20 takedown attempts
– Alistair Overeem has the best significant strike accuracy (72.8%) in UFC history (Anthony Hamilton #2, 65.6%) – Minimum 5 UFC fights and 350 significant strike attempts
– Ricardo Lamas has the 8th most total fight time (2:06:52) in UFC featherweight division history (Cub Swanson #1, 3:31:12)
– Lamas is tied with Brian Ortega and Godofredo Pepey for the 8th most submission attempt (8) in UFC featherweight division history (Darren Elkins #1, 21)
– Mirsad Bektic is tied with Julianna Pena for the 5th best strikes absorbed per minute (1.20) in UFC history (Islam Makhachev #1, 0.74) – Minimum 5 UFC fights.
– Bektic has the 5th best significant strike accuracy (49.4%) in UFC featherweight division history (Jimy Hettes #1, 57.3%) – Minimum 5 UFC fights
– Bektic has the 4th best strike diffential (+1.94) in UFC featherweight division history (Conor McGregor #1, +2.51) – Minimum 5 UFC fights
– Bektic has the 3rd best takedown accurary (53.6%) in UFC featherweight division history (Diego Brandao #1, 68%) – Minimum 5 UFC fights and 20 takedown attempts
– Rashad Evans has the 2nd most total fight time (4:02:43) in UFC light heavyweight division history (Jon Jones #1, 4:13:13)
– Evans has the most takedowns landed (50) in UFC light heavyweight division history (Ryan Bader #2, 45)
– Joseph Benavidez has the 9th shortest average fight time (11:37) in UFC flyweight division history (Ben Nguyen #1, 7:28) – Minimum 5 UFC fights
– Benavidez has the 4th most total fight time (2:19:24) in UFC flyweight division history (Demetrious Johnson #1, 4:14:12)
– Benavidez is tied with Ryan Benoit for 3rd most knockdowns landed (4) in UFC flyweight division history (John Lineker #1, 7)
– Benavidez has the 2nd best strikes landed per minute (3.94) in UFC flyweight division history (John Lineker #1, 5.43) – Minimum 5 UFC fights
– Sergio Pettis has the 3rd longest average fight time (15:16) in UFC flyweight division history (Demetrious Johnson #1, 18:09) – Minimum 5 UFC fights
– Pettis has the 4th best significant strike defense (66.8%) in UFC flyweight division history (Henry Cejudo #1, 68.8%) – Minimum 5 UFC fights and 350 strike attempts by opponents
– Clay Guida has the 7th most total fight time (3:43:12) in UFC lightweight division history (Gleison Tibau #1, 5:01:30)
– Guida has the 10th best significant strikes defense (67.5%) in UFC lightweight division history (John Makdessi #1, 72.2%) – Minimum 5 UFC fights and 350 strike attempts by opponents
– Charles Oliveira is tied with Nate Diaz for the 4th most submission attempts (25) in UFC history (Jim Miller #1, 39)
– Oliveira has the 2nd shortest average fight time (5:13) in UFC lightweight division history (Manny Gamburyan #1, 4:45) – Minimum 5 UFC fights
My UFC 225 Picks: Robert Whittaker, Rafael dos Anjos, Holly Holm, Tai Tuivasa, Mike Jackson, Curtis Blaydes, Claudia Gadelha, Mirsad Bektic, Rashad Coulter, Rashad Evans, Joseph Benavidez, Charles Oliveira, and Dan Ige