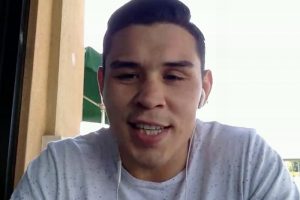 This week on The MMA Report Podcast, Jason Floyd and Daniel Galvan of TheMMAReport.com discuss the latest in mixed martial arts and Jason has interviews with Ricky Simon and Westin Wilson.
At the start of this week's podcast, Jason talks about what he has learned over the last week. From the popularity of Manny Pacquiao versus the UFC and learning the meaning of a "Eskimo Brother." After discussing those two topics, the guys get into the DAZN press conference and Bellator President Scott Coker announcing fighters that will be in the upcoming welterweight tournament.
Up next, Jason and Daniel give their thoughts on what happened last weekend at the UFC and Bellator fight cards. They tell you what stuck out to them and then they get into the Buy/Sell portion of the podcast as they discuss five mixed martial arts topics.
Then it's on to the interview portion as you will hear Jason's conversations with Ricky Simon and Westin Wilson. Ricky previews his upcoming fight against Benito Lopez at UFC 227 and Westin talks about his fight this weekend in Texas. Following the interviews, Jason and Daniel wrap up the podcast by previewing this week's PFL 4 and UFC Fight Night 134.
And don't forget to check out our friends at Nordic Track and take advantage of a special offer they have for The MMA Report Podcast listeners. Get $75 off your NordicTrack purchase by visiting NordicTrack.com/MMAReport and using the offer code MMAReport.
Thanks for listening to this week's podcast and be sure to subscribe, rate, and review the podcast.
Follow The MMA Report on Twitter: @TheMMAReport
Like The MMA Report on Facebook: The MMA Report
Subscribe to the podcast on Apple Podcasts, Stitcher and Google Play