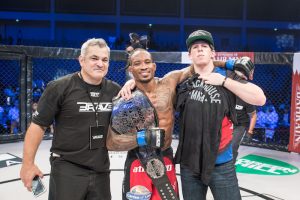 This week on The MMA Report Podcast, Jason and Daniel discuss some of the hot topics in mixed martial arts and Jason has fighter interviews with Bubba Jenkins, Abdiel Velazquez and Kris Moutinho.
At the beginning of this week's show, Jason and Daniel discuss the pay-per-view price for next month's Golden Boy MMA card headlined by the trilogy bout between Chuck Liddell and Tito Ortiz. While discussing the price point, they discuss the news of Canelo Alvarez signing a deal with DAZN and answer several listener questions about the streaming service.
Up next is a discussion on former UFC and Bellator lightweight champion Eddie Alvarez signing with ONE Championship. They hit on why we should be happy for Alvarez and how this signing by ONE Championship is different that when the promotion signed former Bellator welterweight champion Ben Askren.
And speaking of Bellator, the guys talk a look back at last weekend's Bellator 207 and Bellator 208. They talk about multiple aspects of this fight card including the heavyweight tournament final being set and Benson Henderson's post fight interview. Then it's on to the interview portion of the podcast as Jason speaks with Bubba Jenkins, Abdiel Velazquez and Kris Moutinho.
Upon the conclusion of the interviews, Jason and Daniel hit on what happened last week at PFL 9 and preview Saturday's PFL 10. After discussing PFL, they touch on several MMA news items including Ronda Rousey's comments on UFC star treatment and the suspension Bradley Scott received from USADA after testing positive for steroids.
Follow The MMA Report on Twitter: @TheMMAReport
Like The MMA Report on Facebook: The MMA Report
Subscribe to the podcast on Apple Podcasts, Stitcher and Google Play