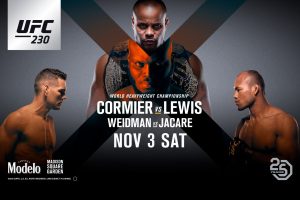 UFC 230 is tonight in New York City and will be headlined by Daniel Cormier making his first heavyweight title defense when he's challenged by Derrick Lewis. Along with the heavyweight title fight, former UFC middleweight champion Chris Weidman returns for the first time since July of last year when he takes on Ronaldo "Jacare" Souza.
As I stated on this week's podcast, tonight's card is a good lineup and hopefully this fight card does delivered. The fight card will begin at 6:15 p.m. ET/3:15 p.m. ET, so you need to get your DraftKings lineup set before the preliminary card begins on UFC Fight Pass.
Now if you have watch my DFS Preview Show in the past with Pete Rogers Jr., you will know my general thoughts on UFC daily fantasy. We are seeking fighters that can put up 100+ points and find a value play that could end up scoring big. Below you will read my thoughts on the fighter I am building my lineup around, a value fight, the fight I am avoiding and my DraftKings lineup for tonight.
Fighter I'm Building My Lineup Around
When DraftKings posted the salaries for UFC 230, it was immediately clear who I was going to build my lineup around and that fighter is Daniel Cormier. While Cormier comes with a high price tag ($9,600), he's the fighter on the card I am most confident in scoring 100+ points and I expect him to be highly owned. The price tag of $9,600 is the highest price tag for Cormier as the previous high was $9,200 against Volkan Oezdemir. On that night, Cormier scored 105 points and he's coming off a 112.5 point performance against Stipe Miocic.
One of the main reasons I am building my lineup around Cormier is the huge advantage he has in the wrestling against Lewis. While a first round finish would be great, if Cormier ends up getting the victory in the third round, he could score 120+ points due to takedowns. While Lewis has a "punchers chance," Cormier is just a better fighter and it's extremely hard to not pay the high price for Cormier.
Value Play
Now when you take a high salary like I am with Cormier, you have to find a value play. A value play for me is a fighter that is priced at $7,500 or less. As I looked at the fighters under $7,500, I actually found 3 fighters that jumped out to me and the one fighter that stood out was Derek Brunson at $7,100.
When you look at Brunson's profile on DraftKings, you will notice that he's scored 100+ points in six of his ten fights listed. Prior to his lost at the beginning of this year against Jacare Souza, he had scored 100+ points in back to back fights. Now I am not saying that Brunson will win, but I love his upside and if he can get the victory, he could be the key to cashing in your DraftKings pool.
Fight I Am Avoiding
On every UFC fight card, there's a fight that I see the DraftKings salaries and I say, "that's a fight I am staying away from." When it comes to tonight's card, that fight is Chris Weidman ($8,500) vs. Jacare Souza ($7,700). The reason this is the fight I am avoiding is due to not having a lot of faith in either fighter. Weidman is 1-3 in his last four fights and Jacare is 3-3 in his last six fights. If I had to play a side in the fight, it would be Weidman, but it's tough to trust him right now at that price.
My UFC 230 Lineup
Daniel Cormier, David Branch, Karl Roberson, Derek Brunson, Roxanne Modafferi and Marcos Rogerio de Lima.