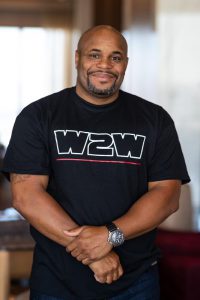 Former UFC heavyweight and light heavyweight champion Daniel Cormier has joined forces with Wimp2Warrior (W2W). The announcement of the multi-year partnership between Cormier and W2W was revealed today by W2W VP, North America Rich Chou.
Daniel Cormier Wrestling Academy in Gilroy, California, will become a location for multiple in-person series for the W2W program with this partnership in place.
"DC has a true love of the sport, and his knowledge and understanding of MMA is second to none," Chou stated in today's announcement. "Whether it be his accomplishments in the octagon, his broadcast work, or his dedication as a coach developing young athletes, he has solidified his standing as one of MMA's most visible global ambassadors. As W2W continues to accelerate our growth, being able to have a 360 partnership with DC further validates our commitment to growing the sport by converting fandom to participation worldwide."
Cormier will serve as a global brand ambassador for the program and work in concert with SBG Ireland and W2W co-founder John Kavanagh to develop the 20-week in-person curriculum that W2W employs. Plus, he will further leverage his relationships with professional fighters, coaches, and gym owners to educate them on W2W's full suite of services.
"Look, anyone who knows me knows how invested I am in teaching," said Cormier. "It's why I coach wrestling at Gilroy HS, why I opened up my academy and why I am partnering with W2W. This program represents everything that is good about martial arts and gives me a chance to give back by being an entry point to men and women who can't shake that burning question of 'can I do that?'"
The addition by Cormier to the Wimp2Warrior is the latest addition to the company since Chou joined the organization earlier this year. In addition, W2W recently announced a $7.5-Million Capital Raise spearheaded by News Corp's Scaleup Media Fund, Mark Bouris, Sandbar Investments, Altor Capital, Shaw & Partners, and Lucerne Investment Partners.
For more information on Wimp2Warrior and its "Warrior Training Program," visit their website at Wimp2Warrior.com.