Jon Jones appeared in Binghamton City Court today in New York to receive his sentence for his guilty plea to DWI.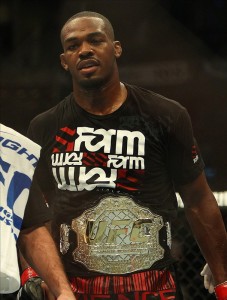 The current UFC light heavyweight champion was fined $1,000, must install ignition interlocks on all vehicles, complete a victim impact panel within 90 days and his license has been suspended for six months.
A ignition interlock is essentially a breathalyzer that he will have to install in all of his vehicles. He will have to breath into the device before the car will be able to start. If his blood/alcohol level is above the limit it is set to, the car will not start.
The sentence was handed down by Judge Daniel L. Seiden and Jones did not respond to reporters after the sentence was delivered. The UFC fighter did release a statement on his Twitter page.
Blessed to still have the full support of Broom County/ all my fans and my DWI case officially behind me. Moving forward

— Jon Bones Jones (@JonnyBones) July 31, 2012
Jones was charged after his accident on May 19th and entered a guilty plea on May 29th. Along with the sentenced, he was ordered to pay restitution to the utility company for $6,563.62.
He will return to the octagon on September 1st at UFC 151 and defend his title against former Pride and Strikeforce champion Dan Henderson.