The only heavyweight fight at UFC on FOX 4 will take place on the preliminary card on FUEL TV when Phil De Fries (8-1, 1NC) meets Oli Thompson (9-3).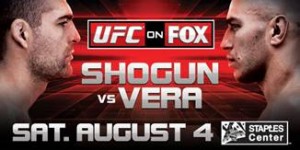 This fight was originally scheduled to happen at UFC 138 in England, but Thompson had to pull out of the fight with an injury. The fight would have been the UFC debut for both fighters.
De Fries stayed on the fight card and made his UFC debut against Rob Broughton. He won the fight by unanimous decision and returned earlier in 2012 and face Stipe Miocic. The fight with Miocic only lasted 43 seconds, which he lost by knockout.
After suffering the injury that forced him out of UFC 138, Thompson made his UFC debut against Shawn Jordan at UFC on FX 2. He was defeated by TKO in the second round and it was his first lost since early 2010. He entered the UFC on a five fight winning streak, with four of the victories by stoppage.
De Fries is know for his submission game with seven of his eight wins coming by submission and half of those submissions are by rear-naked choke. De Fries has not been able to show much of his submission game while in the UFC, but he does have a 60% takedown accuracy during his UFC fights.
Thompson has also been able to finish opponents with submission, as five of his nine victories have come by submission. He was able to attempt a submission in his fight with Jordan, but he was stopped by strikes.
With both fighters having a submission background, this fight will likely be a stand up battle. De Fries will have a four inch reach advantage and he has a striking accuracy of 51% in his two UFC fights. Thompson has shown the ability to knock out his opponent and look for this fight to not last the scheduled three rounds.