The UFC recently announced that UFC on FX 5 would take place on October 5th from the Target Center in Minneapolis and six new fights have been added to the card.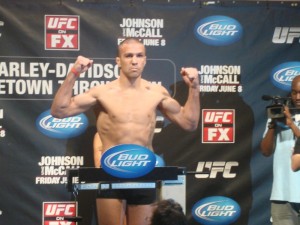 It was previously announced that the main event would be in the heavyweight division with Travis Browne taking on Antonio "Bigfoot" Silva.
The new fights added to the card are Matt Mitrione (5-1) vs. Rob Broughton (15-7), Josh Neer (33-11-1) vs. Justin Edwards (7-2), Carlo Prater (30-11-1) vs. Marcus LeVesseur (21-6), Bart Palaszewski (36-15) vs. Diego Nunes (17-3), Darren Uyenoyama (7-3) vs. Louis Gaudinot (6-2) and John Dodson (13-5) vs. Jussier da Silva (14-1).
The UFC made all of these fights official late Tuesday night on their website.
The bout between Mitrione and Broughton was originally scheduled to take place at UFC on FOX 4, but visa issues with Broughton caused the bout to be scratched. Mitrione was asked to step in for Ben Rothwell against Browne, but Mitrione told the UFC he was not in good enough shape to take the fight.
Neer and Edwards will enter the octagon on October 5th with a lost in their last fight with Neer losing to Mike Pyle at UFC on FX 3 and Edwards losing to John Maguire at UFC 138. Edwards was a contestant on season 13 of "The Ultimate Fighter" and has lost two of his three UFC fights. Neer recently came back to the UFC after being cut in 2009 and won his first two fight back in the organization before his lost to Pyle.
The flyweight bout between Dodson and Da Silva could have title implications as Da Silva is considered on of the top flyweight fighters in the world. The only lost in his career came against current UFC flyweight contender Ian McCall and he is currently on a four fight winning streak. Dodson won "The Ultimate Fighter" as a bantamweight, but dropped down to flyweight after the reality show. Flyweight is his natural weight class and he was successful in his UFC flyweight debut against Tim Elliot at UFC on FOX 3.
UFC on FX 5 will take place from the Target Center in Minneapolis, Minnesota on October 5th and stay tuned to TheMMAReport.com for updates on this fight card.