The XFC will return to AXS TV this Friday night for XFC 19: Charlotte Showdown and will be headlined by former UFC fighter Corey Hill taking on Mike Bronzoulis.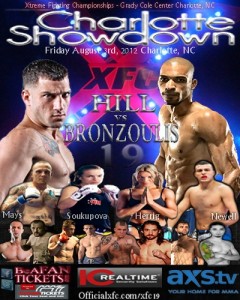 Hill was originally scheduled to meet Jason South, but he recently pulled out of the fight for personal reasons. XFC President John Prisco offered the fight to Bronzoulis and he immediately accepted the fight.
Hill made his XFC debut last year in Tampa and defeated former Ultimate Fighter Charlie Rader by submission in the first round. He recently signed a long term contract with the XFC and this will be his first fight since getting the victory over Rader.
The co-main event will be a women's 115 pound bout as Simona Soukupova takes former kickboxer Felice Herrig. This will be the XFC debut for Soukupova and she will enter this fight after suffering her first professional defeat. Herrig has gone 1-1 in the XFC and is coming off a decision victory at XFC 17.
The televised portion of the fight card will begin at 9 p.m. ET on AXS TV and the current fight card is below:
Main Card: (AXS TV – 9 p.m. ET)
Corey Hill (6-4) vs. Mike Bronzoulis (14-5-1)
Simona Soukupova (2-1) vs. Felice Herrig (6-4)
David Mays (6-3) vs. Nick Newell (7-0)
Shane Crenshaw (3-0) vs. Jason Hicks (4-0)
Joe Elmore (6-4) vs. Kevin Forant (2-0)
Lawson McClure (8-2) vs. Keith Richardson (7-3)
Nicolae Cury (6-3) vs. Roger Carroll (11-5)
Preliminary Card:
Johnny Buck (10-8) vs. Ricky Rainey (3-0)
Joseph Caroll (5-6) vs. Jeff Tharington (2-4)
Zack Klouse (3-1) vs. Tony Scarlett (0-1)
Brian Karmolinski (0-6) vs. Carlos Vivas (0-0)