After UFC President Dana White announced that UFC 151 had been cancelled, he received a call from the Anderson Silva camp and the middleweight champion was willing to take a light heavyweight fight to save the card.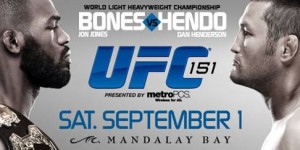 Silva was willing to take a fight as long as it was not against light heavyweight champion Jon Jones.
The news of this story was first reported by MMAFighting.com and has been confirmed by various sources.
This would not have been the first time that Silva has taken a light heavyweight fight in the UFC as he has gone 2-0 in the division with wins over James Irvin and Forrest Griffin.
The news that Silva was willing to take a fight on such short notice is a surprise, since his camp recently said that he wants big fights and a potential super fight with Georges St-Pierre.
He is expected to wait to see what happens at UFC 154 and if St-Pierre defeats Carlos Condit, the UFC will make this long awaited fight happen at a catch weight in early 2013.