Jon Jones appeared to be set to defend the UFC light heavyweight title against Lyoto Machida at UFC 152, but Machida has turn down the fight.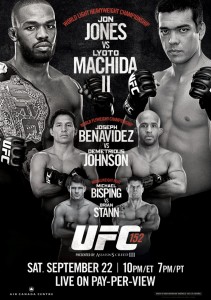 A statement is expected to be released today by Machida on why he elected to turn down the title fight against Jones.
With Machida turning down the fight, the UFC turned to former light heavyweight champion Vitor Belfort. He immediately accepted the fight when it was offered to him by Lorenzo Fertitta.
Belfort went to Twitter to tell his fans that he had accepted the fight with Jones and is ready for this challenge.
I will fight jones I want to thank he`s camping and him to accept this big challenge for me I am so happy to deliv… twitplus.co.uk/t/hl0

— Vitor Belfort (@vitorbelfort) August 24, 2012
Belfort had been scheduled to meet Alan Belcher on the main card of UFC 153 in a middleweight bout. It's not known who will replace Belfort on the UFC 153 card and a potential replacement could be Chris Weidman.