One of the biggest issues in mixed martial arts today is the use of testosterone replacement therapy by fighters.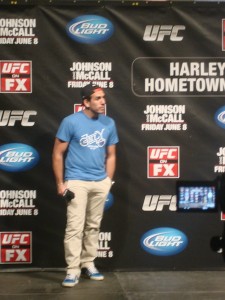 During last night's episode of "UFC Tonight" on FUEL TV, the show was a roundtable style show with Kenny Florian, Rashad Evans, Michael Bisping and Dominick Cruz. The show was hosted by Ariel Helwani and the subject of testosterone replacement therapy was one of the topics.
Florian starts off the debate by saying there are two thoughts on the just of TRT. "Either everyone should be able to use it across the board or it should be banned," Florian said.
The one fighter on the panel that has experience with fighting an opponent that was on TRT was Bisping. He took on Chael Sonnen at UFC on FOX 2 and Sonnen is one of the UFC fighters that has been granted a therapeutic use for TRT by multiple athletic commissions.
"When you are 21, your testosterone is flowing and its at the maximum," Bisping said. "As you get older, it reduces and that's the way it goes. It's mother nature and that's what happens to human beings. You hit 40 years old and you start replacing your testosterone. The experience of a 40 year old, the testosterone of a 21 year old."
Check out the entire debate below and at the end of the clip, each fighter gives there opinion if testosterone replacement therapy should be allowed in the sport.