Saturday night's UFC on FOX 4 fight card will feature three light heavyweight and the first fight in that division will take place on the preliminary card as former college wrestler Phil Davis (9-1) takes on Wagner Prado (8-0).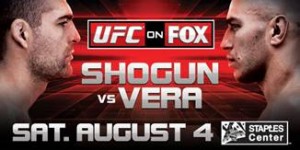 Davis was originally scheduled to take on Chad Griggs, but Griggs pulled out of the fight with an injury.
This will be the UFC debut for Prado and Davis first fight since losing to Rashad Evans at UFC on FOX 2, which was a number one contenders fight.
The lost to Evans was the first career lost for Davis and he had started his career with nine straight victories, which included wins over Brian Stann, Alexander Gustafsson, Tim Boetsch and Antonio Rogerio Nogueira. Four of his six victories in the UFC have come by decision and the former Penn State wrestler has continued to show improvements in his stand up game.
Prado is a member of Team Nogueira and seven of his eight career wins are by knockout. This will be his first fight outside of Brazil and he is a blue belt in Brazilian Jiu-Jitsu. Six of his victories have come in the first round and several have come in the first minute.
Styles make fights and Davis will likely try to put his opponent on his back and not make this a kick boxing fight. During his six UFC fights, Davis has a takedown accuracy of 43% and he nearly averages three takedowns every 15 minutes.
Prado will have to stop the takedown attempts of Davis to win this fight. If he can stop the takedowns and making this a kick boxing fight, Davis could be in trouble.