There are certain fighters that enter the octagon that want to put on exciting fights and Jamie Varner is one of them.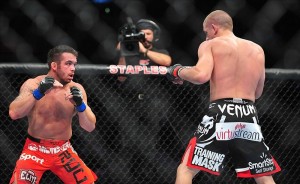 The former WEC champion was defeated last Saturday night by Joe Lauzon at UFC on FOX 4 and he likes to put on exciting fights instead of being safe and cruising to a decision victory.
Varner appeared on "Inside MMA" on AXS TV earlier this week and the fighter explained how he could have won a boring fight if he wanted to.
"I would rather fight hard and have people enjoy watching me fight, then just fight not to lose," Varner said. "I could have been Joe Lauzon with a jab. I could have ran, throw jabs, throw kicks, keep him away and won a boring fight and decision. I wanted to put pressure on him. I wanted to be exciting. I wanted to go for the finish. I'm always looking for the finish and unfortunately I got caught."
Because of the way Varner fights, he puts himself in bad situations in fights. During the third round with Lauzon, he decided to use his double leg takedown and that was the mistake he made. Once the takedown was successful, Lauzon was able to work his ground game and submit Varner to a triangle choke.
The UFC wants fighters like Varner and Dan Hardy. Whether they win or lose, they will have exciting fights and they will be apart of the UFC.