The second fight on the UFC 150 pay-per-view will be in the middleweight division as former title contender Yushin Okami (27-7) meets Buddy Roberts (12-2).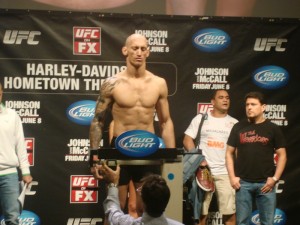 This is the third opponent for Okami as he was originally scheduled to meet Luiz Cane. After Cane pulled out of the fight with an injury, Rousimar Palhares stepped in. Then, Palhares pulled out of the fight two weeks ago with an injury.
At the same time that Palhares pulled out of the fight, Roberts original opponent Chris Camozzi also pulled out of UFC 150 and UFC match maker Joe Silva decided to match Okami against Roberts.
Okami is a former title contender in the UFC middleweight division and is currently on a two fight losing streak. He has gone 10-4 in the UFC with notable wins against Alan Belcher, Mike Swick, Mark Munoz and Nate Marquardt. Half of his wins have come by stoppage, with nine of them coming by knockout.
During his recent two fight losing streak, both losses have come by TKO and he had not been defeated by TKO since 2003.
Roberts is a member of Greg Jackson's team and recently made his debut at UFC on FX 3. He was originally scheduled to make his debut at UFC on FUEL TV 1 against Sean Loeffler, but the fight was cancelled just minutes before it was set to take place. While warming up, Loeffler injured his ankle and the fight had to be cancelled.
The UFC then scheduled him to make his debut at UFC on FX 3 and he defeated Caio Magalhaes by unanimous decision. During his fight with Magalhaes, he was the aggressor with his striking and two of the three judges gave him all three rounds.
Roberts will have a three inch reach advantage over his opponent, but Okami has the experience edge in the fight. The Japanese fighter has been working with Chael Sonnen at Team Quest on his wrestling and will likely try to take this fight to the ground. In his UFC debut, Roberts was able to defend 87% of the takedowns by his opponent.
Okami is a huge favorite in this fight and he should be. He has the experience and Roberts has not faced the type of competition that Okami has. This is a huge opportunity for Roberts and Okami will look for an impressive performance, since he is currently on a two fight losing streak.