On Thursday, UFC President Dana White announced that UFC 151 had been canceled after Dan Henderson suffered an injury and light heavyweight champion Jon Jones turned down a fight against Chael Sonnen.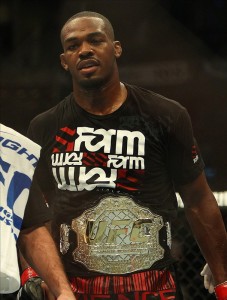 The champion has only done one interview since the announcement that the UFC 151 fight card had been canceled.
The light heavyweight champion has now released a statement on his Twitter page and has accepted the responsibility of UFC 151 being canceled.
"Carrying the cross for my company's decision," Jones wrote on Twitter. "If someone has to take the blame, I will accept full responsibility for the way UFC 151 was canceled. I want to sincerely apologize to all the other athletes/fans who's time and money was waisted. I feel terrible about the way that was handled."
Jones has appeared to become one of the most disliked fighters in mixed martial arts since it was announced that he turned down a fight with Sonnen on eight days notice.
The UFC was upset with the champions decision to turn down the fight with Sonnen. During a conference call on Thursday afternoon, White said that himself and UFC CEO Lorenzo Fertitta were disgusted by the champions actions. White proclaimed that this is the first time in eleven years that a champion has turned down a fight.
"When you are a champion, much less one of the guys who is supposed to be one of the best pound-for-pound fighters in the world, you are supposed to step up. Jon Jones is a guy a lot of fans don't like, and I don't think this is going to make him any more popular. Lorenzo Fertitta and I are disgusted with Jon Jones and Greg Jackson."
Jackson is the trainer for the light heavyweight champion and recommended that he turn down the fight against Sonnen on eight days notice.
"I think that Sonnen is an incredible tough opponent and he has proven that time and time again," Jackson said. "We are professionals in a professional sport and taking something for the world title on three days doesn't seem smart to me at all. I didn't know that the entire card was going to be in the mix and that everything relied on one fight, but there you go."
Will this apology help Jones public perception? Probably not in the short term, but this is another life lesson for the champion to learn from. Jones will have to earn the respect of the fans back and that will start next month when he defends his title against Vitor Belfort at UFC 152 in Toronto on September 22nd.