Jon Jones is the current UFC light heavyweight champion and will be defending his title next month in Las Vegas against former Pride and Strikeforce champion Dan Henderson.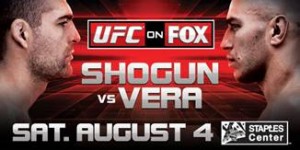 After the completion of the UFC on FOX 4 Press Conference, Jones sent out a tweet asking the fans to give their thoughts on this weekend's fights and in return he would give his.
Jones has been in the cage with all four fighters in his UFC career and he finished all of them. He broke down all four fighters from the fights he had with them and says Lyoto Machida was the toughest puzzle.
Out of the four guys Lyoto was the toughest puzzle, brandon had the biggest mouth, bader felt the strongest, shogun lasted the longest. lol

— Jon Bones Jones (@JonnyBones) August 2, 2012
When it came to predicting the winners of the fights, he feels that Mauricio "Shogun" Rua will get a decision victory over Brandon Vera. "My prediction: I got Shogun by decision after a predominant striking match." Jones wrote on Twitter. "Vera could make it more interesting if he uses take downs."
He faced Vera back in early 2010 and breakdowns the one thing that Vera does very well. "One thing Vera does very well is fight in 2 different stances," Jones wrote on Twitter. "Its hard to prepare for what you don't know is coming."
When it came to the co-main event between Machida and Ryan Bader, "Bones" does not give a prediction like he did for the main event. However, he does say how each fighter can win the fight.
"I could see Machida stopping the fight, out classing Bader with good foot work and fast strikes," Jones tweeted. "Bader needs to turn it into a brawl. Bader has a fast and powerful overhand right. The same punch shogun finished Lyoto with. Man you just never know with MMA. Gotta love it."