Rory MacDonald recently pulled out of his fight at UFC 152 against B.J. Penn, due to a cut he suffered while training for the fight.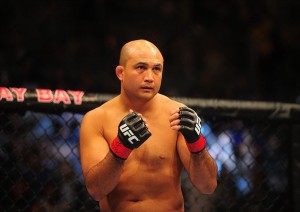 During last night's episode of "MMA Uncensored Live" on SPIKE TV, former UFC fighter Nate Quarry stated that the matchup would be the main event of UFC on FOX 5 in December.
Then, Ariel Helwani of MMA Fighting reported that MacDonald's manager told him that talks were under way for the fight to take place on the next FOX card.
Now, MMA Junkie is saying that the fight is being targeted to be the co-main event of the fight card and not the main event.
They two welterweight fighters were originally scheduled to meet at UFC 152, but MacDonald suffered a cut in training and had to get 38 stitches. Penn recently said that he wanted to have the fight rescheduled for UFC 153, instead of UFC 154 that MacDonald have suggested.
Many MMA observers believe that the UFC needs to put bigger fights on FOX to increase the rating and a fight like this could. With this reportedly the co-main event, maybe the UFC is considering putting a title fight on free television again.