The seventh season of Bellator will start on September 28th at Caesars Atlantic City and the main card will be the quarterfinals of the upcoming welterweight tournament.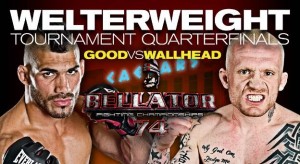 The main card on MTV2 and EPIX2 will begin at 8 p.m. ET and will be headlined by former Bellator welterweight champion Lyman Good (12-2) meeting Jim Wallhead (23-6) in one of the quarterfinal bouts.
The other three quarterfinal fights are Nordine Taleb (8-1) vs. Marius Zaromskis (18-6, 1NC), Tim Welch (9-3) vs. Michail Tsarev (23-2) and Andrey Koreshkov (10-0) vs. Jordan Smith (17-3).
"Each quarterfinal pairing in our Season 7 Welterweight Tournament is basically a pick'em fight, with Lyman and Jim headlining what should be a fantastic night of fights," said Bellator Chairman & CEO Bjorn Rebney. "Atlantic City is a classic fight town and New Jersey is a hotbed for mixed martial arts, so our fans are in for a great night on September 28."
Tickets are currently on sale at Ticketmaster or the Caesars Box Office and tickets are priced from $52-$165.
The preliminary card will be streamed on Spike.com and will begin shortly after 6 p.m. ET and that portion of the card will have six fights. The headliner on the preliminary card will feature Bellator veteran Popo Bezerra (13-2) taking on Jeff Smith (10-1). The preliminary card will also feature the Bellator debut of Munah Holland. She is currently on a four fight winning streak, which includes a knockout victory over Marianna Kheyfets.
The current Bellator 74 fight card is below:
Main Card:(MTV2/EPIX2 – 8 p.m. ET)
Lyman Good (12-2) vs. Jim Wallhead (23-6)
Nordine Taleb (8-1) vs. Marius Zaromskis (18-6, 1NC)
Tim Welch (9-3) vs. Michail Tsarev (23-2)
Andrey Koreshkov (10-0) vs. Jordan Smith (17-3)
Preliminary Card:(Spike.com – 6 p.m. ET)
Popo Bezerra (13-2) vs. Jeff Smith (10-1)
Derrick Kennington (6-3) vs. Phillipe Nover (5-4)
Brylan Van Artsdalen (6-4) vs. Jay Haas (10-9)
Munah Holland (5-1) vs. TBD
Kelvin Tiller (4-1) vs. Plinio Cruz (5-5)
Claudio Ledesma (6-3) vs. Kenny Foster (10-6)