Travis Wiuff entered the Bellator Summer Series Light Heavyweight Tournament as the favorite, since he holds a win over current champion Christian M'Pumbu.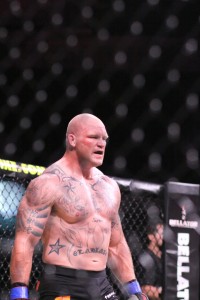 He defeated M'Pumbu in his Bellator debut last year, which was a non title super fight at Bellator 55. He won the fight by decision and received a spot in the light heavyweight tournament, which started earlier this summer.
Wiuff (68-14) was seen as the favorite entering the tournament and he felt the target on his back.
"Going into the tournament, I was kind of the favorite because I had beaten the champion," Wiuff said. "There are some talented guys and I think I had the tougher side of the bracket. Not taking anything away from my opponent on Friday night, but I have beaten tougher guys in the first two round of the tournament than I will meet on Friday night."
He will be taking on Attila Vegh (27-4-2) tomorrow night in the final of the light heavyweight tournament and will be the main event on the fight card, which will be shown on MTV2 and EPIX2.
Vegh is coming off a close decision win in the semifinals against Emanuel Newton, while Wiuff was dominate in his semifinal bout against Tim Carpenter. He knows that Vegh is a good striker and comes from one of the premier camps in American Top Team.
Even thought he believes he has faced the tougher side of the bracket, Wiuff knows that you have to be good to make it to the finals.
"He is a tough guy and I think that anyone that gets to the finals is obviously very talented and must be tough," he said.