The final preliminary bout on the UFC on FOX 4 card from Los Angeles was a featherweight bout and Nam Phan defeated Cole Miller by split decision.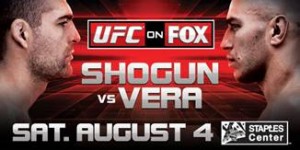 The entire fight was a striking bout and only one takedown was attempted, with that being attempted by Miller in the third round.
The significant strikes landed was nearly identical with Phan (18-11) having a slight edge and landed at a higher rate. Phan had his most success when he had Miller against the cage and was able to land several left hooks.
He appeared to hurt Miller in the third round and went in for the finish. Miller was able to recover from that moment and two of the three judges scored the fight for Phan.
Phan has now won two of his last three fights, where Miller (18-7) has lost two straight fights since dropping down to the featherweight division.
UFC on FOX 4 Results:
Nam Phan defeated Cole Miller via split decision (29-28, 28-29, 29-28)
Phil Davis vs. Wagner Prado declared a no-decision (unintentional foul)
Rani Yahya defeated Josh Grispi via submission (north-south choke) – Round 1, 3:15
Phil De Fries defeated Oli Thompson via submission (face crank) – Round 2, 4:16
Manny Gamburyan defeated Michihiro Omigawa via unanimous decision (29-28, 29-28, 30-27)
John Moraga defeated Ulysses Gomez via knockout (strikes) – Round 1, 3:46