Mike Swick has been away from the octagon for over two years because of an illness and returned tonight and scored a knockout victory over DaMarques Johnson.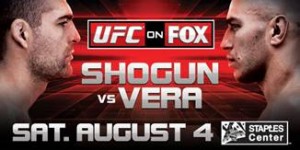 The first round was a brawl for most of the round with both fighters landing significant strikes.
Johnson (18-11) was able to get a takedown in the second half of the first round and ended up getting the full mount position. He attempted a submission, but Swick (15-4) was able to escape the submission.
After the first round, Swick's trainer Javier Mendez told his fighter to not get into a brawl and listen to him. Mendez also told his fighter that if he listens to him, he will win.
Then in the second round, Swick was able to catch a leg and take Johnson to the ground. Once Johnson hit the mat, Swick landed a right hand which knocked out Johnson. Swick landed two more shots before referee Herb Dean could get to the fighter and stop the fight.
This is Swick's first win since UFC 99 in 2009 and this is his eighth career victory by knockout. Johnson has now lost back to back fights and he has been finished in both fights.
UFC on FOX 4 Results:
Mike Swick defeated DaMarques Johnson via knockout (strikes) – Round 2, 1:20
Nam Phan defeated Cole Miller via split decision (29-28, 28-29, 29-28)
Phil Davis vs. Wagner Prado declared a no-decision (unintentional foul)
Rani Yahya defeated Josh Grispi via submission (north-south choke) – Round 1, 3:15
Phil De Fries defeated Oli Thompson via submission (face crank) – Round 2, 4:16
Manny Gamburyan defeated Michihiro Omigawa via unanimous decision (29-28, 29-28, 30-27)
John Moraga defeated Ulysses Gomez via knockout (strikes) – Round 1, 3:46