In what may go down as the fight of the night at UFC on FOX 4, Joe Lauzon defeated Jamie Varner in the third round by triangle choke submission.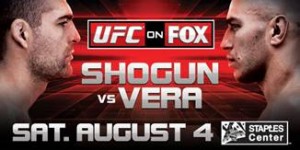 The end of the fight came at came at the 2:44 mark of the final round after Varner went for a takedown and Lauzon (21-7) was able to secure a triangle choke submission.
In the first round, both fighters stood in the middle of the cage and started to have a brawl at certain points of the round. With under one minute to go in the round, Varner dropped Lauzon and attempted to finish the fight with ground and pound. Lauzon was able to survive the round and make it back to his corner.
After the first round, Lauzon's corner told him that the only way Varner could win the fight was by using his right hand. Then in the second round, Lauzon was able to capitalizes on Varner's cardio and was able to get the back of his opponent. Varner was able to survive the submission attempts and make it out of the round.
In the third round, Varner (20-7-1, 2NC) went for a double leg takedown and the fight went to the ground. From his back, Lauzon was able to lock in the triangle choke submission and Varner was forced to tap.
Lauzon has now won three of his last four fights and this was the 18th career win by submission. Varner has now gone 1-1 in the UFC since returning to the company earlier this year.
UFC on FOX 4 Results:
Joe Lauzon defeated Jamie Varner via submission (triangle choke) – Round 3, 2:44
Mike Swick defeated DaMarques Johnson via knockout (strikes) – Round 2, 1:20
Nam Phan defeated Cole Miller via split decision (29-28, 28-29, 29-28)
Phil Davis vs. Wagner Prado declared a no-decision (unintentional foul)
Rani Yahya defeated Josh Grispi via submission (north-south choke) – Round 1, 3:15
Phil De Fries defeated Oli Thompson via submission (face crank) – Round 2, 4:16
Manny Gamburyan defeated Michihiro Omigawa via unanimous decision (29-28, 29-28, 30-27)
John Moraga defeated Ulysses Gomez via knockout (strikes) – Round 1, 3:46