UFC President Dana White said that the fighter that has the most impressive win at UFC on FOX 4 would be the next title contender in the light heavyweight division and Lyoto Machida made a his case against Ryan Bader.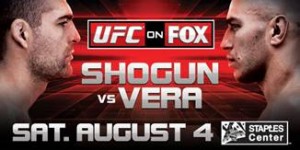 Machida (18-3) knocked out Bader at the 1:32 mark of the second round and overwhelmed the former Ultimate Fighter winner.
In the first round, Machida was able to use his karate distance and confuse his opponent. Bader was only able to land five strikes during the first round, where Machida landed his leg kicks and jabs.
Then in the second round, Bader attempted to close the distance by coming at Machida and ran straight into a right hand. The strike by Machida knocked out Bader and referee John McCarthy came in to call the fight.
Following the fight, Machida announced that "The Dragon is back." He has now one two of his last three fights and the lost came against current light heavyweight champion Jon Jones.
Bader (15-3) entered the fight on a two fight winning streak and this is his first career defeat by knockout.
UFC on FOX 4 Results:
Lyoto Machida defeated Ryan Bader via knockout (strikes) – Round 2, 1:32
Joe Lauzon defeated Jamie Varner via submission (triangle choke) – Round 3, 2:44
Mike Swick defeated DaMarques Johnson via knockout (strikes) – Round 2, 1:20
Nam Phan defeated Cole Miller via split decision (29-28, 28-29, 29-28)
Phil Davis vs. Wagner Prado declared a no-decision (unintentional foul)
Rani Yahya defeated Josh Grispi via submission (north-south choke) – Round 1, 3:15
Phil De Fries defeated Oli Thompson via submission (face crank) – Round 2, 4:16
Manny Gamburyan defeated Michihiro Omigawa via unanimous decision (29-28, 29-28, 30-27)
John Moraga defeated Ulysses Gomez via knockout (strikes) – Round 1, 3:46