In the main event of UFC on FOX 4, Brandon Vera took every shot that Mauricio "Shogun" Rua threw at him, but it was not enough as Shogun scored a TKO victory in the fourth round.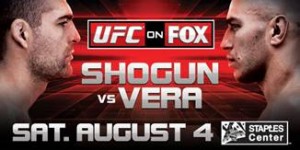 Rua (21-6) rocked Vera during multiple times in the fight and attempted submission holds when he took the fight to the ground.
It appeared his gameplan was to take the fight to the ground, which has been a weakness of Vera in his recent defeats.
Shogun finished the fight at the 4:09 mark in the fourth round after a strike appeared to dislodge the mouthpiece out of Vera mouths and he finished the fight with ground and pound.
Many people did not believe that Vera should be in this fight and he proved that he can hang with the top contenders in the UFC light heavyweight division. UFC President Dana White said he was happy with the performance and the fighter left everything in the cage.
UFC on FOX 4 Results:
Mauricio Rua defeated Brandon Vera via TKO (strikes) – Round 4, 4:09
Lyoto Machida defeated Ryan Bader via knockout (strikes) – Round 2, 1:32
Joe Lauzon defeated Jamie Varner via submission (triangle choke) – Round 3, 2:44
Mike Swick defeated DaMarques Johnson via knockout (strikes) – Round 2, 1:20
Nam Phan defeated Cole Miller via split decision (29-28, 28-29, 29-28)
Phil Davis vs. Wagner Prado declared a no-decision (unintentional foul)
Rani Yahya defeated Josh Grispi via submission (north-south choke) – Round 1, 3:15
Phil De Fries defeated Oli Thompson via submission (face crank) – Round 2, 4:16
Manny Gamburyan defeated Michihiro Omigawa via unanimous decision (29-28, 29-28, 30-27)
John Moraga defeated Ulysses Gomez via knockout (strikes) – Round 1, 3:46