The seventh season of the Bellator Fighting Championships begins tonight with Bellator 74 from Caesars Atlantic City.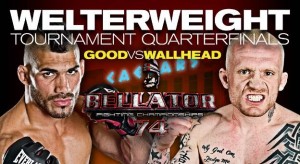 The preliminary card is scheduled to begin at 6:30 p.m. ET on Spike.com with six fights and the main card will begin at 8 p.m. ET on MTV2 and in commercial free high definition on EPIX2.
The main card will feature the four quarterfinal bouts in this season's welterweight tournament and the winner of the tournament is guaranteed a title shot.
Jim Wallhead (23-6) vs. Lyman Good (12-2)
This will be the main event on tonight's fight card and Good was the inaugural welterweight champion and lost the belt to Askren in his first title defense. Since losing the title, he has gone 2-2 and is coming off a 13 second knockout victory at Bellator 65 against LeVon Maynard.
This is Wallhead's second stint in Bellator as he was a quarter finalist in the season four welterweight tournament. He lost to Rick Hawn in that tournament fight and his last two fights were in BAMMA, which were two victories.
Both of these fighters are known for their ability to finish fights and they both had knockout victories in the first round in their last fights. Look for this fight to be on the feet for the majority of the time and for these to fighters to stand and trade strikes in the middle of the cage.
Nordine Taleb (6-1) vs. Marius Zaromskis (18-6-1)
Zaromskis is the former DREAM welterweight champion and is now under an exclusive contract with Bellator. He is currently on a four fight winning streak and has won both of his fights in the promotion. Both of his wins in Bellator came against Waachiim Spiritwolf and the first victory over Spiritwolf was a TKO by doctors stoppage, which Spiritwolf appeared to be winning the fight before the stoppage.
Taleb is currently on a seven fight winning streak and five of those victories are by knockout. He made his Bellator debut earlier this year and has won both of his fights in the organization. His last win came at Bellator 67, which was a knockout victory over Matt MacGrath.
Both fighters like to fight in the stand up position and that will likely happen in this bout. Zaromskis has more experience and is the more technical striker in this fight. Taleb has a "punchers chance" and will have to be on the lookout for the head kicks of Zaromskis, which has finished his opponents in the past.
Tim Welch (9-3) vs. Michail Tsarev (23-2)
This is the Bellator debut for both fighters and Welch is currently on a three fight winning streak. In his nine career victories, Welch has stopped all of his opponents and seven of his victories are in the first round.
Tsarev started his career with 13 straight victories and then lost back to back fights. Since those defeats, he has won 10 in a row and all of those victories are by either knockout or submission. He has only gone the distance twice in his professional career and holds 18 career victories by submission.
Welch will have to stay away from going to the ground with Tsarev and will need to keep this fight standing. If the fight goes to the ground, Tsarev should be able to work his submission game and get a victory.
Andrey Koreshkov (10-0) vs. Jordan Smith (17-3)
Koreshkov is one of the best prospects that is under contract with Bellator and has won both of his fights in Bellator by knockout. He needed less than 90 seconds to win his Bellator debut and followed that up with a third round TKO against Derrick Krantz at Bellator 69.
Smith was a participant in the season six welterweight tournament as a replacement for Brian Foster and was defeated in the quarterfinals by David Rickels in 22 seconds by knockout. His last two losses are by knockout, which has caused people to question his chin.
With the knockout power that Koreshkov has, Smith's gameplan may end up being to take the fight to the ground. Smith is a game opponent for the Russian fighter, but Koreshkov's striking technique and power may be to much for him to handle.