The season seven welterweight tournament in the Bellator Fighting Championships will begin tomorrow night at Caesars Atlantic City and one of the quarter finalist is Andrey Koreshkov.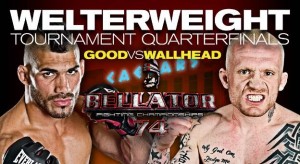 Koreshkov (10-0) made his debut with Bellator earlier this year and has won both of his Bellator bouts by knockout. He has finished all of his opponents by either knockout or submissions.
Prior to his bout with Derrick Krantz at Bellator 69, he had not never seen the third round. However, Krantz would take it to the third round and Koreshkov scored a TKO victory in the opening round of the third round.
The full fight between Koreshkov and Krantz is below: