The Bellator Fighting Championships starts it's seventh season tomorrow night at Caesars Atlantic City and the fight card is official after every fighter made weight.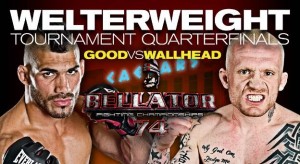 Tomorrow night's main card on MTV2 and in commercial free high definition on EPIX2 will be the quarterfinals of the welterweight tournament.
The main event featuring former Bellator welterweight champion Lyman Good taking on Jim Wallhead. The other quarterfinal bouts are Nordine Taleb vs. Marius Zaromskis, Tim Welch vs. Michail Tsarev and Andrey Koreshkov vs. Jordan Smith.
The results of the Bellator 74 Weigh-In's are below:
Main Card: (MTV2/EPIX2 – 8 p.m. ET)
Jim Wallhead (169.8) vs. Lyman Good (170.2) *
Nordine Taleb (170.8) vs. Marius Zaromskis (170.8) *
Tim Welch (170.4) vs. Michail Tsarev (171) *
Andrey Koreshkov (170.8) vs. Jordan Smith (169.8) *
Preliminary Card: (Spike.com – 6 p.m. ET)
Casey Johnson (144.6) vs. Will Martinez (144.6)
Munah Holland (125.8) vs. Michelle Ould (123.8)
Derrick Kennington (154.2) vs. Phillipe Nover (156)
Brylan Van Artsdalen (145.4) vs. Jay Haas (145.6)
Claudio Ledesma (134.8) vs. Kenny Foster (135.8)
* – Welterweight Tournament Quarterfinal