The UFC returns to FUEL TV this Saturday for UFC on FUEL TV 5 and the fight card will come from the Capital FM Arena in Nottingham, England.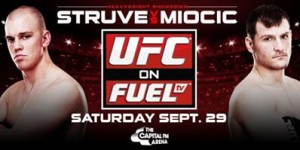 This is the first time the UFC has held a fight card in Nottingham and the first time the organization has been back to England since UFC 138 last November.
Kyle Kingsbury (11-4, 1NC) vs. Jimi Manuwa (11-0)
The main event of the preliminary card will be a light heavyweight bout as Kyle Kingsbury meets Jimi Manuwa, who will be making his UFC debut.
Manuwa has competed in England his entire career and ten of his eleven victories are by knockout. He has finished nine of his opponents in the first round and has never made it out of the second round.
Kingsbury is a seven fight veteran of the UFC and entered the organization during season eight of "The Ultimate Fighter." He is currently on a two fight losing streak and a lost to Manuwa could lead to him being released by the UFC.
The gameplan for Kingsbury will likely be to take the fight to the ground and get away from the striking game of his opponent. The UFC veteran knows that this is the gameplan that most fighters have against Manuwa, but have not been able to execute that gameplan. If Manuwa is able to stuff the takedown attempts, he has a good shot of winning his UFC debut.
Andy Ogle (8-1) vs. Akira Corassani (11-4-1)
This featherweight bout is a matchup of two "Ultimate Fighter" alums and this will be the official UFC debut for both fighters. Corassani was on season 14 of the reality show and Ogle was on the season 15 of the show.
Corassani was scheduled to meet Steven Siler at the TUF Finale, but he had to pull out of the fight with an injury. He was then scheduled to face Jason Young at UFC on FUEL TV 2, but once again he had to pull out of the fight with an injury.
Ogle lost in the quarterfinal stage of the reality show Al Iaquinta by knockout and received a medical suspension from the commission due to the knockout. With being medically suspended, Ogle could not be scheduled for the finale.
Corassani has a edge on the feet and Ogle is a well rounded fighter, but will likely look to take this fight to the ground. Ogle did seem to have weakness in his striking game during the reality show and Corassani will look to exploit that part of his game.
Tom Watson (15-4) vs. Brad Tavares (8-2)
Watson will be one of several fighters making his UFC debut on this card and was previously the BAMMA middleweight champion. He is currently on a three fight winning streak and holds a win over John Maguire, who faces John Hathaway on the main card of this event.
Tavares has won three of his four UFC fights after being a contestant on season 11 of TUF and is coming off a close decision victory over Dongi Yang. During his UFC career, his most impressive performance came at UFC 125, which was a knockout victory over Phil Baroni.
Both fighters are most comfortable standing on their feet, with Watson having seven knockout victories and half of Tavares victories are by knockout. It's unlikely that either fighter will take this fight to the ground. Tavares has the octagon experience, but Watson has a more diverse striking game.
DaMarques Johnson (18-11) vs. Gunnar Nelson (9-0-1)
This is another fight which will see a fighter making his UFC debut and Johnson accepted this fight on one weeks notice. With taking the fight on short notice, this will be a catchweight bout of 175 pounds.
Nelson is on a nine fight winning streak and has finished all nine fights, with eight of the fights ending in the first round. His last four fights have ended with a submission and all in the first round.
Johnson was a finalist in the ninth season of TUF and is currently on a two fight losing streak. After losing in the reality show final, he won two straight fight and won a fight night bonus in both fights. Since that time, he has only won two of his last six fights and may need a win to stay in the UFC.
Nelson has six career wins by submissions and Johnson would prefer to keep this fight standing. When Johnson is defeated, he has been either submitted or knocked out in ten of his eleven defeats. Johnson will have a size advantage in the fight and will need to use his reach to take advantage of Nelson. If Nelson can stay away from striking with Johnson, he could get a victory in his UFC debut.
Jason Young (9-5) vs. Robbie Peralta (15-3, 1NC)
The first fight on the UFC on FUEL TV 5 preliminary card will be a featherweight bout as Jason Young looks to win back to back fights as he takes on Robbie Peralta.
After losing his first two fights in the UFC, Young scored his first UFC victory earlier this year with a decision victory over Eric Wisely.
Peralta started his UFC career with a decision victory over Mike Lullo and then returned at UFC on FOX and originally got a TKO victory over Mackens Semerzier, but was overturned to a no contest due to an accidental headbutt.
Both fighters like to keep the fight standing and use their wrestling to keep the fight striking. Peralta has not been in the octagon in nearly a year and this should be a close fight with two guys willing to stand in the middle of the octagon and trade strikes.