The first fight on the Bellator 74 main card on MTV2 was the first quarterfinal bout in this season's welterweight tournament as Andrey Koreshkov took on Jordan Smith.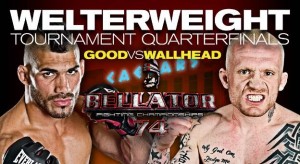 As the fight started, both fighters started to trade strikes and Koreshkov showed how explosive he can be with his strikes.
Smith was able to get the fight to the ground and attempted two separate submissions. Both submissions were tight, but Koreshkov was able to escape. After the submission attempts, most of the action was from the ground and Koreshkov landed several shots from top position as the round closed.
As the second round started, Smith was able to take the fight to the ground and get the back of Koreshkov. He attempted to lock in a rear-naked choke and would eventually get the submission. The choke appeared to be in tight, but Koreshkov was able to survive. Koreshkov ended up in top position, but was unable to advance position and the fight moved on to the third round.
The third round open with exchange of strikes and Koreshkov was able to stop a takedown attempt. The fighters would continue to exchange strikes and once again, Koreshkov stopped another takedown attempt by Smith. The rest of the round would be on the feet and cardio appeared to be an issue with both fighters.
The fight went to the judges and all three judges scored it 29-28 Andrey Koreshkov and he advances to the semifinals of the welterweight tournament.
Bellator 74 Results:
Andrey Koreshkov def. Jordan Smith via unanimous decision (29-28, 29-28, 29-28)
Will Martinez def. Casey Johnson via submission (rear-naked choke) – 1st Round, 2:27
Michelle Ould def. Munah Holland via unanimous decision (30-27, 30-27, 29-28)
Alexandre Bezerra def. Matt McCook via submission (rear-naked choke) – 1st Round, 3:04
Phillipe Nover def. Derrick Kennington via technical submission (rear-naked choke) – 2nd Round, 4:20
Brylan Van Artsdalen def. Jay Haas via submission (guillotine choke) – 1st Round, 1:03
Claudio Ledesma def. Kenny Foster via unanimous decision (30-27, 30-27, 30-27)