The second quarterfinal bout in the welterweight tournament saw Tim Welch take on Michail Tsarev with the winner advancing to the semifinals, which will take place later this season.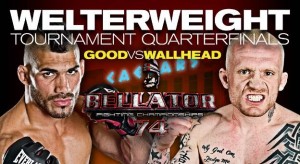 The fight started with both fighters coming out throwing punches and Welch pushed the action. The fighters ended up on the cage, but would eventually back away and the action returned to the center of the cage.
Tsarev would sweep the leg of Welch and take top position on the ground. He would transition to get his back on the ground and locked in a guillotine choke. Welch was able to escape and end in top position.
Once in top position, Tsarev landed an illegal up kick and Dan Miragliotta told the fighter it was an illegal kick, but did not deduct a point from him. Tsarev would once again look for a guillotine choke, but Welch would survive the submission and make it to the end of the round.
In the opening minute of the second round, Welch connected with a right hand and dropped Tsarev. Welch told his opponent to stand up, because he did not want to go to the ground with the submission specialist. However, Tsarev was able to get the fight to the ground and locked in a rear-naked choke and Welch was forced to tap.
This is the 19th career submission win for Tsarev and he is the second semifinalist in this seasons welterweight tournament.
Bellator 74 Results:
Michail Tsarev def. Tim Welch via submission (rear-naked choke) – 2nd Round, 1:57
Andrey Koreshkov def. Jordan Smith via unanimous decision (29-28, 29-28, 29-28)
Will Martinez def. Casey Johnson via submission (rear-naked choke) – 1st Round, 2:27
Michelle Ould def. Munah Holland via unanimous decision (30-27, 30-27, 29-28)
Alexandre Bezerra def. Matt McCook via submission (rear-naked choke) – 1st Round, 3:04
Phillipe Nover def. Derrick Kennington via technical submission (rear-naked choke) – 2nd Round, 4:20
Brylan Van Artsdalen def. Jay Haas via submission (guillotine choke) – 1st Round, 1:03
Claudio Ledesma def. Kenny Foster via unanimous decision (30-27, 30-27, 30-27)