The co-main event of Bellator 74 was the third quarterfinal bout in the welterweight tournament as former DREAM welterweight champion Marius Zaromskis took on Nordine Taleb.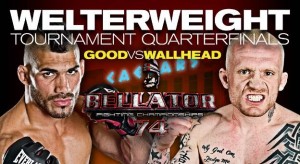 Zaromskis came out of his corner and immediately took control of the cage. Taleb was able to land kicks as he was moving backwards, but Zaromskis continued to push the pace.
Zaromskis threw a spinning back fist, which dropped Taleb and he immediately went in for the finish. Taleb was able to scramble, but ended up giving up his back. Zaromskis looked for the rear-naked choje for a moment, but gave up the potential submission.
The action would get back to the feet and both fighters exchange kicks and punches. Zaromskis went for a rare takedown in the final minute of the round, but was unable to finish the takedown.
In the opening minute of the second round, Taleb landed a combo and Zaromskis landed a shot that dropped his opponent and he ended up in side control. Referee Dan Miragliotta would end up standing the fighters up after a lack of action and the fighters ended up grappling against the cage.
At the start of the third round, Taleb appeared to clip Zaromskis and he went on the attack. The action would move to the cage and Miragliotta would end up breaking them apart after a lack of movement.
The fighters would end up in a grappling position once again and Zaromskis was able to slam Taleb into the mat. Zaromskis ended up in side control and Miragliotta once again broke up the fighters for a lack of action. Upon restarting, Zaromskis landed a head kick that rocked Taleb, but could not finish the fight.
The fight would end up going to the scorecards and Zaromskis would get the decision victories as the judges score it 30-27, 29-28 and 29-28.
Bellator 74 Results:
Marius Zaromskis def. Nordine Taleb via unanimous decision (30-27, 29-28, 29-28)
Michail Tsarev def. Tim Welch via submission (rear-naked choke) – 2nd Round, 1:57
Andrey Koreshkov def. Jordan Smith via unanimous decision (29-28, 29-28, 29-28)
Will Martinez def. Casey Johnson via submission (rear-naked choke) – 1st Round, 2:27
Michelle Ould def. Munah Holland via unanimous decision (30-27, 30-27, 29-28)
Alexandre Bezerra def. Matt McCook via submission (rear-naked choke) – 1st Round, 3:04
Phillipe Nover def. Derrick Kennington via technical submission (rear-naked choke) – 2nd Round, 4:20
Brylan Van Artsdalen def. Jay Haas via submission (guillotine choke) – 1st Round, 1:03
Claudio Ledesma def. Kenny Foster via unanimous decision (30-27, 30-27, 30-27)