The main event of Bellator 74 was the fourth and final welterweight tournament quarterfinal as former Bellator welterweight champion Lyman Good took on Jim Wallhead.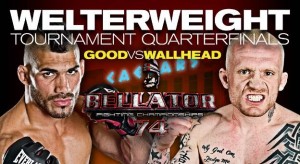 The action started with Good rushing straight at Wallhead and the fighters would end up in the clinch.
After neither fighter was able to gain an advantage in the clinch, they would break away from each other.
With the action against the cage, both fighter were landing strikes and Good appeared to land the better shots. Wallhead was able to break away from the clinch for a moment, but Good was once again able to get him in the clinch and the round would end with Good landing strikes inside the clinch.
Good wasted no time in getting back into the clinch to start the second round and Wallhead would be able to push him away. With the action in the center of the cage, Good landed a right hand that had his opponent on his heels. Wallhead was able to recover and get back to the middle of the cage.
In the rest of the second round, Good was able to control the action with his jab and leg kicks. Wallhead was unable to mount much office in the second round and appeared to be down on the scorecards.
The third round starts with both fighters standing in the middle of the cage and throwing jabs. Good ended up landing an illegal groin shot and was able to continue. When the action resumed, Wallhead came straight at Good and throwing several strikes. He looked for a takedown, but it was easily stuffed. Good was able to control the pace and landed a second illegal low blow in the final seconds of the fight. Referee Dan Miragliotta deducted a point with three seconds left and the fight went to the judges scorecards.
All three judges scored the fight 29-27 for Lyman Good and he advances to the semifinals of the season seven welterweight tournament.
Bellator 74 Results:
Lyman Good def. Jim Wallhead via unanimous decision (29-27, 29-27, 29-27)
Marius Zaromskis def. Nordine Taleb via unanimous decision (30-27, 29-28, 29-28)
Michail Tsarev def. Tim Welch via submission (rear-naked choke) – 2nd Round, 1:57
Andrey Koreshkov def. Jordan Smith via unanimous decision (29-28, 29-28, 29-28)
Will Martinez def. Casey Johnson via submission (rear-naked choke) – 1st Round, 2:27
Michelle Ould def. Munah Holland via unanimous decision (30-27, 30-27, 29-28)
Alexandre Bezerra def. Matt McCook via submission (rear-naked choke) – 1st Round, 3:04
Phillipe Nover def. Derrick Kennington via technical submission (rear-naked choke) – 2nd Round, 4:20
Brylan Van Artsdalen def. Jay Haas via submission (guillotine choke) – 1st Round, 1:03
Claudio Ledesma def. Kenny Foster via unanimous decision (30-27, 30-27, 30-27)