The XFC has announced a change to the main event at XFC 20 as Danny Salinas has suffered an injury to his bicep and off the card.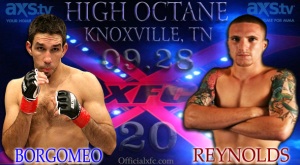 Replacing Salinas against Eric Reynolds is Lorenzo Borgomeo, who is a veteran of the XFC, Bellator and Elite XC.
Reynolds (15-5) is one of the top lightweights in the XFC and is scheduled to meet Nick Newell in December for the XFC lightweight title.
He is a veteran of Bellator and has gone 2-0 since coming to the XFC, with victories over Jonatas Novaes and Luciano dos Santos.
Borgomeo (9-4) appeared in the XFC four years ago and this will his first bout back in the organization. He has won four of his last five fights, with two of the wins coming by way of knockout.
XFC 20: High Octane takes place on September 28th from the Knoxville Civic Coliseum and will air live on AXS TV.