The UFC recently announced that they would be making their debut in China later this year and the organization has officially announced that they will be heading to Macao, China on November 10th.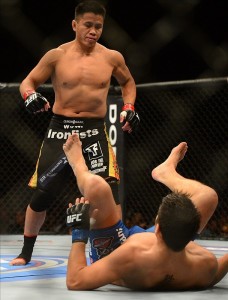 UFC on FUEL TV 6 or UFC: Macao will take place from the CotaiArena, which is located at The Venetian Macao Resort Hotel and be headlined by a middleweight contest as former UFC champion Rich Franklin takes on former Strikeforce champion Cung Le.
Tickets for the fight card can be purchased starting tonight at 10 p.m. ET.
Along with announcing the main event, the UFC also announced three additional bouts. The other fights that were announced are Dong Hyun Kim vs. Paulo Thiago, Stanislav Nedkov vs. Thiago Silva and Tiequan Zhang vs. Jason Reinhardt.
The UFC will hold a press conference today in China to announce the event with the press conference being attended by UFC Asia Managing Director Mark Fischer, Franklin, Le, Kim and Zhang. Fischer is expected to announced the full fight card at the press conference and talk about the upcoming event.
"Our debut into Greater China is a huge milestone in the UFC history and demonstrates the immense popularity and acceptance of the sport on a global stage," said Fischer. "This is certainly one of the single biggest sporting events to ever hit the Hong Kong and Macao area and the global attention this event will receive pays tribute to the birthplace of martial arts. We are honored to hold our first event in China at the world-class CotaiArena in Macau."
The main card for UFC on FUEL TV 6 will be shown on FUEL TV and the preliminary card will be shown on the UFC Facebook page. Stay tuned to TheMMAReport.com for updates on this upcoming UFC fight card.