Paul Daley made his Bellator debut earlier this summer and said he was coming to knock people out.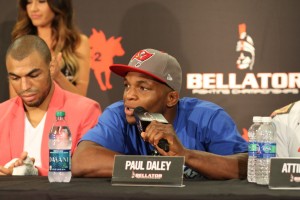 He lived up to that promise at Bellator 72 as he scored a knockout victory in the first round against Rudy Bears.
After his fight at Bellator 72, Daley thanked Bears for taking the fight as he said multiple fighters turned down the fight.
His next Bellator fight will take place in Canada on November 2nd at Bellator 79 against an unknown opponent right now.
TheMMAReport.com talked to Daley last week at Bellator's promo shoot at Universal Studios in Orlando and said there have been a few offered the fight, but not one has signed the contract.
"There was a few and there are a few for the one I have coming up in November that they have not directly turned it down, but they change their mind before signing the contract," Daley said.
Daley did admit that it's frustrating that fighters have turned down fights with him, but he understands why people do not want to fight him.
"It's frustrating but it's not much I can do if they don't want to fight, than they don't want to fight. I can not force someone to fight me and I can understand why someone would not want to fight me."
Many MMA fans were wondering why Daley was not in the season seven welterweight tournament, but the plan was for Daley to have two fights before being put into a Bellator tournament.
"Semtex" is expected to enter the welterweight tournament in the beginning of 2013 and he stated that he knew this was the plan when he signed with Bellator.
"I kind of knew that I was going to be given sometime to be introduced to the Bellator fans and be ready for the transition into Spike TV. I kind of figure that was the plan the way they said my first two fights would be."
He has his sights on winning the Bellator tournament and getting a title shot. However, he knows he needs to win his next fight before worrying about the next welterweight tournament.