The injury bug has now hit Strikeforce as UFC heavyweight Frank Mir has pulled out of his November 3rd bout against Strikeforce heavyweight Grand Prix winner Daniel Cormier.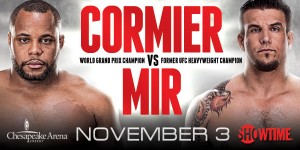 The news of the injury was first reported by Sports Rage and is being reported by various MMA media outlets.
It's unknown what the injury was that caused Mir to pull out of the fight with Cormier.
Mir was set to become the first UFC fighter to head over to Strikeforce to fight and this was set to be Cormier's last fight in Strikeforce. After his next fight, Cormier will head to the UFC and will compete as a heavyweight or light heavyweight.
Strikeforce has not made an official announcement about the injury to Mir at this time and it's unknown if Cormier will stay on the card. If Strikeforce elects to pull Cormier from the card, the new main event would like be Luke Rockhold defending the Strikeforce middleweight title against Lorenz Larkin, which is currently the co-main event on the card.
Stay tuned to TheMMAReport.com for updates on this developing story.