Georges St-Pierre has been out of action since last year and the UFC welterweight champion will be making his return at UFC 154 on November 17th in Montreal.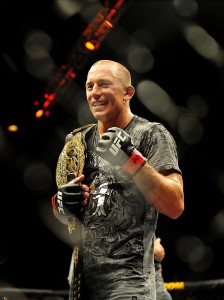 At the conclusion of today's UFC 152 Pre-Fight Press Conference, the UFC announced that there will be a press conference next Thursday in Montreal for UFC 154.
At that press conference, the UFC will make the main event official which will be a welterweight title unification bout as Georges St-Pierre will meet Carlos Condit.
St-Pierre has not been in the octagon since his UFC 129 victory over Jake Shields and recently began training after having surgery on a torn ACL.
When St-Pierre suffered the knee injury, the UFC decided to have an interim title fight and Carlos Condit defeated Nick Diaz, which was a controversial decision with members of the MMA media and the fans.
After winning the interim title, Condit decided that he would wait for St-Pierre to get healthy instead of taking a fight.
UFC 154 will take place from the Bell Centre in Montreal on November 17 and the current fight card is below:
Georges St-Pierre vs. Carlos Condit – Welterweight Title Unification
Johny Hendricks vs. Martin Kampmann
Mark Bocek vs. Rafael dos Anjos
Patrick Cote vs. Alessio Sakara
Tom Lawlor vs. Francis Carmont
Mark Hominick vs. Pablo Garza
John Makdessi vs. Sam Stout
Azamat Gashimov vs. Ivan Menjivar
Cyrille Diabate vs. Chad Griggs
Stephen Thompson vs. Besam Yousef
Antonio Carvalho vs. Rodrigo Damm