Earlier today, the UFC held the pre-fight press conference for UFC 152 in Toronto and the full press conference replay video is now available.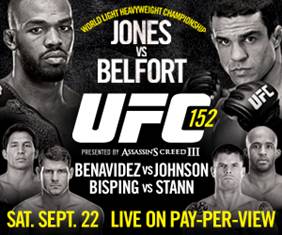 Today's press conference was attended by UFC Director of Canadian Operations Tom Wright, light heavyweight champion Jon Jones, Vitor Belfort, Joseph Benavidez, Demetrious Johnson, Michael Bisping and Brian Stann.
Check out the entire press conference below, which includes the stare downs between the fighters at the end.