Jon Jones will be defending his UFC light heavyweight title this Saturday night in Toronto against former light heavyweight champion Vitor Belfort in the main event of UFC 152.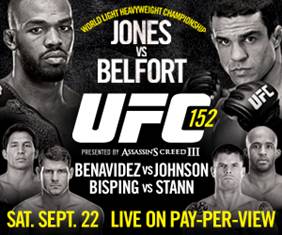 Jones was a guest on last night's episode of "Inside MMA" on HDNet to promote the pay-per-view and talk about his opponent.
He knows that the biggest strength of Belfort is his hand speed, but he believes that his hands are fast as well.
"His hand speed is definitely a gift that he has but I believe I am really fast," Jones said. "A lot of people kind of discredit me for a lot of things. I think a majority of people that don't really don't know MMA they just blame it on me being long. There is a lot more than being long that I have to contribute to my success and speed is one of my advantages as well. Where Vitor is fast, I believe I am really fast as well."
Even though his biggest strength is his hands, Jones knows that we can not discredit his opponents ground game as he has a black belt under Carlson Gracie.
"We can not forget he has a Carlson Gracie black belt, which is a very legitimate black belt. It's going to be interesting and a great fight to watch for sure."