Jon Jones will be making his fourth UFC light heavyweight title defense next Saturday night against Vitor Belfort and believes Belfort's versatile is not as good as his.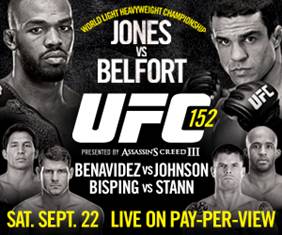 "He is a boxer/jiu-jitsu fighter and his versatile is not as good as mine, but where he lacks versatile, he does have experience and physical strength."
Belfort has labeled this fight as "Young Lion vs. Old Lion" and both fighters come from different generation of fighters. Belfort comes from a generation where you always take a fight and fighters in the current generation have a different idea on taking fights.
"Me and Vitor Belfort are from different generations of fighting," Jones said. "I really believe that in my short career, I have already faced tougher opponents than he has. I feel that I have more championship caliber fights than he has."
This will be the first time that Jones has had a fight with a southpaw fighter, with his last southpaw opponent being former champion Lyoto Machida. During his fight with Machida, Jones showed he had a chin which some people felt his weakness could be his chin.
"I am really excited to fight Vitor Belfort. Mainly because he is a southpaw and the last time I fought a southpaw was Lyoto and I got punched pretty good. I'm really anxious  in just doing a better job against another dangerous southpaw and to look better than I looked before against Lyoto."