Patricio "Pitbull" Freire won the Bellator featherweight tournament during the fourth season last year and was scheduled to get a title shot, but injuries forced that title fight to be delayed.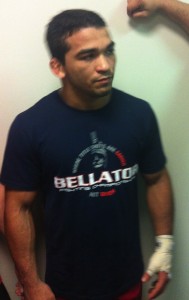 When Pitbull suffered an injury, Pat Curran got the shot against Joe Warren for the featherweight title and won the belt earlier this year.
Curran and Pitbull were scheduled to meet each other at Bellator 73 last month, but Curran suffered an injury and had to pull out of the fight.
Following the news of the Curran injury, Patricio sent out a tweet that he did not believe that the champion was truly injured.
Have you seen any picture or got any info that confirms Curran's injury? I don't believe it. @joshgrossespn @sbnlukethomas @mmajunkiejohn

— Patricio Freire (@PatricioPitbull) August 26, 2012
During a recent promo shoot at Universal Studios in Orlando, Patricio talked to TheMMAReport.com and admitted that he was frustrated that his opponent had to pull out of the fight with an injury.
"I was frustrated but this kind of sport, things can happen and get hurt," he said through a translator. "The first time I was like upset with him, but I'm not anymore. It happens and I'm ok with it."
Pitbull felt that Curran was faking the injury, which caused Bellator officials to show the fighter the medical paperwork from Curran's doctors that showed he was injured and unable to compete at Bellator 73.
"I thought he was faking cause I didn't see no photos or nothing at all. When I got here, I realized that he was really hurt."
When Curran was out of Bellator 73, Pitbull did not know if he would stay on the card and fighters called Bellator Chairman and CEO Bjorn Rebney to step in on short notice to face Pitbull. One of the fighters that wanted to take the fight was Daniel Straus, who won the most recent Bellator featherweight champion.
Rebney elected to not have Straus step in on short notice and it appears that Bellator plans to have Pitbull wait for Curran to recover from his current injury. If Curran's injury recovers when doctors believe it will, it's likely this bout will not take place till the beginning of 2013 when Bellator moves to Spike TV.