Tyson Nam became a household name in the mixed martial arts community when he defeated Bellator bantamweight champion Eduardo Dantas two weeks ago at Shooto Brazil 33.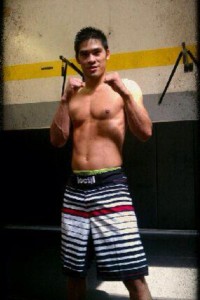 Nam (12-4) won the fight by knockout in the first round, but is now dealing with a legal issue with the Bellator Fighting Championships.
At one time, he was under contract with Bellator and told TheMMAReport.com that he is not currently under contract with them.
"Not under contract but they are putting their section 18 matching right clause on top of me right now," Nam said. "Which in my eyes, there forfeited that when they allowed me to fight in Shooto Brazil."
Bellator signed him earlier this year, but released him in June. At that point, his agent began to look for fights for him and they received an offer from Shooto Brazil.
"Shooto Brazil came along and Bellator knew about it. They didn't match those offers and they let me fight against their champion. I beat him and then all of a sudden they want to claim me as a Bellator fighter."
Nam, who is currently on a four fight winning streak does not believe that Bellator officials believed he would defeat Dantas when they allowed the fight to take place.
"In my eyes, they literally set me up to where I was going to be a sacrificial lam to their champion. On paper, I should have been but with my training partners, my coaches, myself, I believe in myself that I can compete with some of the top bantamweights in the world. We were not going up their for fun and games, it was all business when we were making the trek to Rio."
Nam claims that under Bellator's section 18 of the contract, the organization has 18 months to match any offer that the bantamweight fighter does receive. After Nam signed with Bellator earlier this year, he received a call about taking a short notice fight in the season six bantamweight tournament.
"They gave me a short notice fight about seven days out from a fight. It was at the end of their season six bantamweight tournament. I was supposed to step in the second round to replace someone cause I guess their visa wasn't getting taken care of. I literally dropped everything. I had to get all my medicals, CAT scan, check my eyes and make sure everything was in line. I paid over $500 out of pocket because they give me a deadline, which was about two days. I completed it, turned in everything before the deadline the very next day. Bellator tells me sorry, we are giving it back to the original fighter. After that incident, they promised me that I would be secured a spot in the season seven Bellator bantamweight tournament. Come mid June, they canceled that and they released me to being a free agent fighter after that."
He was disappointed on how things ended with Bellator earlier this year, but was excited about the opportunity to take on Dantas.
Since defeating the Bellator champion, he has received calls from other major organizations about his services. He would like to fight by the end of year, but Bellator would like to see him come into a tournament in the spring of 2013.
Bellator officials have not released any statement at this time on this situation and Nam is having his agent handle this situation. He admitted that there has not been much talk between the two sides in recent days.
"They are not event talking to us anymore.  They are literally having their attorneys talking to my agent and it's almost like here say and third person. They are not giving us the time of day or even being man enough to talk to us face to face and that's how it's been the past couple of days."
No matter what happens with his legal situation with Bellator, this situation is a blessing in disguise for him. Prior to his fight with Dantas, he was hardly known by mainstream MMA fans and now fans want to see him fight in a major MMA promotion.