The Bellator Fighting Championships will begin it's seventh season at the end of the month, but the talk based on the organization has to do with a clause they put in their agreements with the fighters.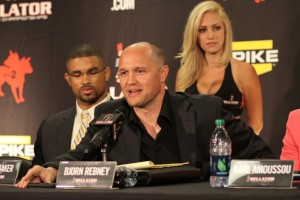 Bellator has a clause in their agreements in fighter contracts that allow the organization to match a contract offer once their contract expires.
Bellator Chairman and CEO Bjorn Rebney talked to TheMMAReport.com and said this is a standard clause that mixed martial arts organizations put into long term contracts with fighters.
"This is a very standard clause in our agreement, in UFC agreement and in every promotional agreement you find with a big organization," he said. "It's called a right to match and it's in every single agreement we have from the first day we started business. It's in every single agreement that the UFC has since they started business. It's a simple contract clause that allows the promoter when he signs a long term deal with a fighter to match an offer that fighter might get from a third party promoter after the agreement with the first promoter is over."
The issue of this contract clause came up recently with bantamweight fighter Tyson Nam. He signed with Bellator early this year, but never appeared in the Bellator cage and was released in June. He took a fight in Brazil against current Bellator bantamweight champion Eduardo Dantas and defeated the champion in the first round by knockout.
Nam's contract had a clause that allows Bellator to match any offer that the fighter receives from another organization and Rebney says this is not just a clause they put into contracts, but the UFC does this as well.
"It's the same thing the UFC has the right to do with any fighter they had under a long term promotional agreement," he said. "If we make an offer to a UFC fighter we have to go through that same process for a guy that use to be under contract with the UFC.  We provide them with the contract that we are ultimately look to enter into with that fighter. We did it with Roger Huerta years ago. We did it with Ben "Killa B" Saunders. We have done it a lot of the different fighters that we signed that have been apart of that organization just as they do it with us in our organization."
Fighters like Tyson Nam and fans of the sport may not like this clause being in a fighters contract, but the fighter agreed to this clause when they signed with the organization.