The UFC held the open workouts for Saturday night's UFC 152 yesterday in Toronto and the fighters talked to the media after their workouts.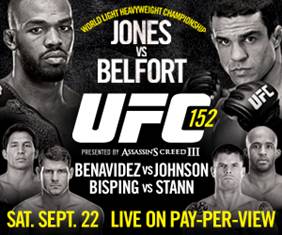 Below is a collection of various interviews with Jon Jones, Vitor Belfort, Joseph Benavidez, Demetrious Johnson, Michael Bisping and Brian Stann.
Here what the fighters had to say yesterday and be sure to check out today's pre-fight press conference, which will be streamed live on TheMMAReport.com at 12 p.m. ET.