After the preliminary card ends, the main card will begin at 4 p.m. ET on FUEL TV with six fights on the card.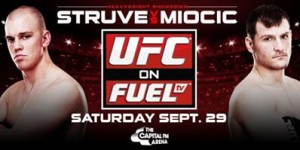 The card will be headlined by a five round heavyweight fight, Dan Hardy fighting his in home, plus several British fighters including Brad Pickett and Paul Sass.
Stefan Struve (28-5) vs. Stipe Miocic (9-0)
This heavyweight fight is scheduled for five rounds, but it's unlikely to last that long since both fighters have shown the ability to end fights. They are both coming off victories at UFC 146 and a win will put them into the top five rankings of the UFC heavyweight division.
Struve is only 24 years old and this will be his 12th appearance in the UFC octagon. He has only been defeated three times in the UFC with the losses coming against Junior dos Santos, Roy Nelson and Travis Browne. He is currently on a three fight winning streak and has not been to the third round since his 2009 fight against Paul Buentello.
Miocic is a former Golden Gloves champion and was a college wrestler at Cleveland State University. He has started his career with nine victories and seven of those wins are by knockout. He has only gone to the third round once in his career and his last two victories are by knockout.
Struve is a well balanced fighter and Miocic has shown what he can do with his hands during his three UFC fights. Struve will look to take the fight to the ground and work his submission game. 16 of his 24 victories are by submission and Miocic will need to stay away from going to the ground. All three of Struve's UFC victories are by knockout and Miocic would prefer the have a boxing fight with his opponent than going to the ground.
Dan Hardy (24-10, 1NC) vs. Amir Sadollah (7-3)
This will be the first time that Hardy has competed in his hometown since 2008 and Sadollah will look to get back to back victories in this fight.
Hardy recently snapped a four fight losing streak at UFC 146 against Duane Ludwig, which was a knockout victory in the first round. It was his first UFC knockout victory since UFC 95, when he defeated Rory Markham in the first round. Hardy has stated this week that he has never lost in his hometown and he will get a victory against Sadollah.
All of Sadollah's professional fights have come in the UFC and he won "The Ultimate Fighter" in the seventh season. He has won three of his last four fights with the most recent win coming at UFC on FUEL TV 3 against Jorge Lopez. Four of his six victories are by decision and his other two victories are by submission.
Hardy will look to stand and trade strikes with Sadollah, which Sadollah will look to have a grinding wrestling fight. Sadollah has not been knocked out since his second professional fight against Johny Hendricks, but that could happen against Hardy. He will have to take the fight to the ground to give himself the best chance to win in his opponents backyard.
Brad Pickett (22-6) vs. Yves Jabouin (18-7)
This will be the only bantamweight bout on the fight card as two former WEC fighters sqaure off. Pickett has won four of his six fights in WEC/UFC, which includes wins over Demetrious Johnson and Ivan Menjivar. Since winning his first two fights in the UFC, he has been unable to put a win streak together.
After dropping his first two fights in the WEC, Jabouin has won four of his last five and is currently on a three fight winning streak. During this winning streak, he holds decision victories over Ian Loveland, Walel Watson and Jeff Hougland.
With both of these fighters style, this fight has the makings of winning the fight of the night bonus. Both fighters are strikers and like to put on a show for the fans. Expect both fighters to stand in the middle of the octagon and throw bombs until one of them drops.
Paul Sass (13-0) vs. Matt Wiman (14-6)
Can Sass become the first fighter to defeat Wiman by submission? Can Wiman hand Sass his first professional defeat? Those are the questions heading into this intriguing lightweight bout.
Sass has submitted 12 of his 13 opponents and all three of his UFC victories are by submission in the first round. He has won the submission of the night twice already and is becoming known for his ability to make his opponent tap out.
This will be the 13th fight in the UFC career of Wiman, who entered the organization back at UFC 60 in 2006. He has won four of his last five fights and is coming off a victory against Mac Danzig, which he won the fight of the night bonus.
Wiman will have to keep this fight standing and can not go to the ground with Sass. Sass is one the best prospects in the lightweight division, but injuries have slowed him down in moving up the rankings. If Sass is able to get this fight to the ground, he will continue his undefeated record. If Wiman can keep the fight standing, he may be able to grind out a decision and hand the British fighter his first career defeat.
John Hathaway (16-1) vs. John Maguire (18-3)
This is the only fight on the card that features a matchup of two British fighters and both of this guys are known for having a good ground game. Hathaway has won six of his seven fights in the UFC and his only lost came at UFC 120 against Mike Pyle. His last six fights have gone to a decision and he is currently on a three fight winning streak.
This will be the third UFC fight for Maguire and he is currently on a seven fight winning streak. He enters this fight after a submission victory over DaMarques Johnson at UFC on FUEL TV 2, which he won the submission of the night bonus.
This fight has the makings of lasting all three rounds, especially since Hathaway has gone to the distance in his last six fights. Maguire does have ten submission victories, but it's unlikely he can submit Hathaway. If you are a fan of grappling fights, this could be your type of fight since it's unlikely that either guy will get a stoppage finish.
Che Mills (14-5) vs. Duane Ludwig (29-13)
Both of these welterweights enter this fight with a lost in their last fight and Ludwig is currently on a two fight losing streak. He is coming off a knockout lost to Dan Hardy at UFC 146 and may need a victory against Mills to stay in the UFC.
Mills entered the UFC last year and defeated Chris Cope in his debut at UFC 138. Following his debut win, the UFC booked him to face Rory MacDonald at UFC 145 and he was dominated throughout the fight and the fight was stopped in the second round.
This should be an entertaining fight for the fans to watch as both guys prefer to stand in the octagon and throw their hands. Both of these guys have knockout power and will stand up until someone falls down. The winner of this fight could end of getting the knockout of the night bonus, if they are able to get the stoppage victory.